Boston's Snowbound Expo
This November, the Hynes Convention Center in Boston will play host to a massive gathering of the Northeast's ski and snowboard community. The Snowbound Expo brings together leading gear manufacturers, resort managers, coaches, athletes, enthusiasts, and curious visitors, all in celebration and anticipation of the new trends and options that the 2022-23 winter season has in store.
For cross country skiers or for those interested in starting the sport, the Cross Country Ski Area Association (CCSAA) will be present at the Expo, hosting a 'Cross Country Ski and Snowshoe Experience.' With interactive demonstrations, equipment trials, a simulated snow environment, a retail shop and numerous experts on hand, CCSAA's exhibit will offer newcomers a chance to learn the basics of Nordic skiing and snowshoeing (with regard to both technique and equipment). At the same time, it will give seasoned skiers and snowshoers insights on how to maximize the pleasures and benefits of the sport.
For this second group that's already familiar with the basics of on-snow skiing or snowshoeing, CCSAA's experts and retail partners will introduce two off-season alternatives to cross country skiing: roller skiing and Nordic walking.
Roller skiing is a direct copy of on-snow skiing, except that it is done on wheeled skis, over pavement. It might sound daunting but with a quick lesson from a qualified instructor, you'll be cruising through parking lots in no time.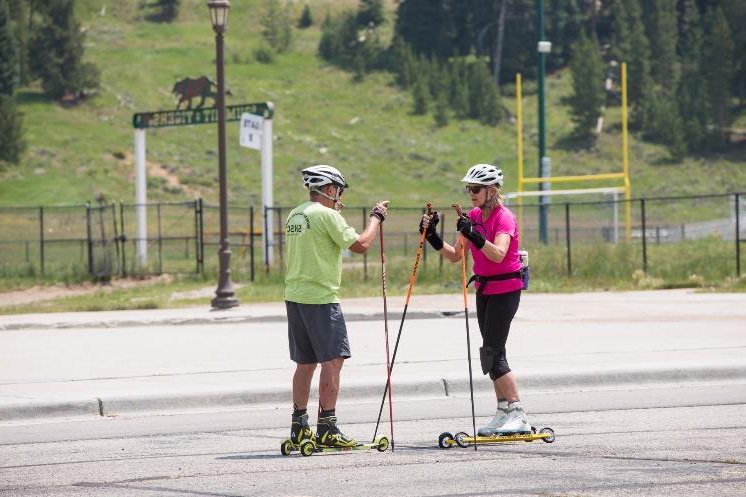 The second alternative, Nordic walking, is as good a dryland exercise for snowshoers as it is for skiers. It is basically a rhythmic, energetic walk that you do with tall walking poles in hand. As with roller skiing, Nordic walking mimics the movement you make when skiing—however, as there are no wheels and only simple equipment, it is an accessible way to explore your favorite trails and train your skiing (and snowshoeing) muscles. If you decide to pick up this low-impact, high-reward sport, CCSAA and their partners will have the latest in Nordic walking poles available to demo.
If you have had enough of dryland training over the last eight months and are ready to switch into your snow gear, CCSAA's Expo booth still has you covered. Ski instructors from the nearby Weston Ski Tracks will be leading visitors in lessons on simulated snow. Not only is this a great environment to pick up some tips on technique, but you can also test out some of the wide range of equipment available for demo and purchase.
To experience the joys of cross country skiing and snowshoeing before ski centers open their trails to all sorts of adventure, be sure to stop by the CCSAA exhibit at Snowbound. It's a great way to get excited for the upcoming season and to get your gear and technique in order before the snow flies. With the same ticket, you can also get a crash course in what's new in Snowsports from the leading experts, gear makers and athletes. Tickets are $15, and free for kids. The event runs from Friday Nov. 18th through Sunday the 20th. More information on dates and tickets can be found here.