Fall Vibes – Dryland and Rollerskiing 101 Day Camps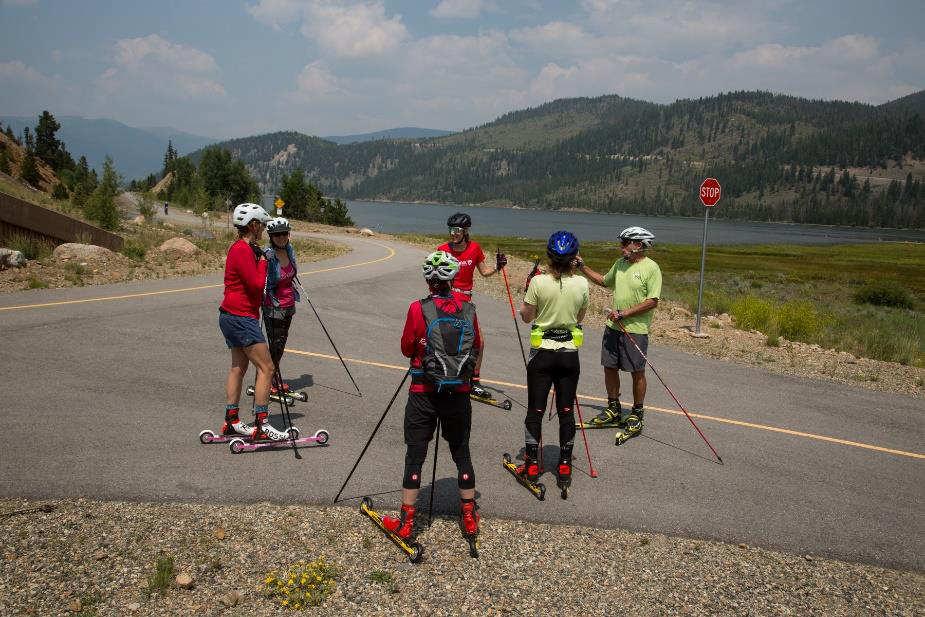 By Emily Lovett
Photo Credits: Linda Guerrette
Many of us rollerski as part of our summer training plan. Over the years I've talked to people curious about trying it but too unsure to invest time and expense for the equipment. This summer we worked with EnjoyWinter put together a demo rollerski fleet for this purpose; Introduce curious folks to rollerskiing in a safe and positive learning environment. One of my favorite training quotes is this: "Often the things (skills) we need to work on improving on the snow, we need to work improving off the snow first". And with this theme, we put together the Dryland Training and Introduction to Rollerskiing Day Camps.
During the camps we focused on fundamentals of XC skiing:
Body position – the ability to manage your center of mass over the base of support (foot/ski). A common opportunity for improvement for all level master skiers is the ability to maintain a good body position throughout the skiing cycle. Rollerskiing is a great way to work on this because in order to control the rollerski you need to have your CM over BoS. You can't get away (as easily) with being in the "back seat" on rollerskis.
Push-off/propulsion; the ability to create propulsion both from lower body and upper body
Weight shift – the ability to shift your center of mass from ski to ski
Glide- the ability to balance and glide on the ski(s).
Our days started out with a dynamic warmup and a focus on the fundamentals on foot, dialing in body position and movement without the skis on. Some of the example activities were:
Balance exercises
Arm/leg swings
Ladder agility exercises
Medicine ball slam
Hike/bound with pole
We then progressed to rollerskis on and moving through fundamentals on grass. For first time rollerskiers, this allowed folks to get used to how rollerskis feel in a less intimidating environment (ie softer and slower ground surface!).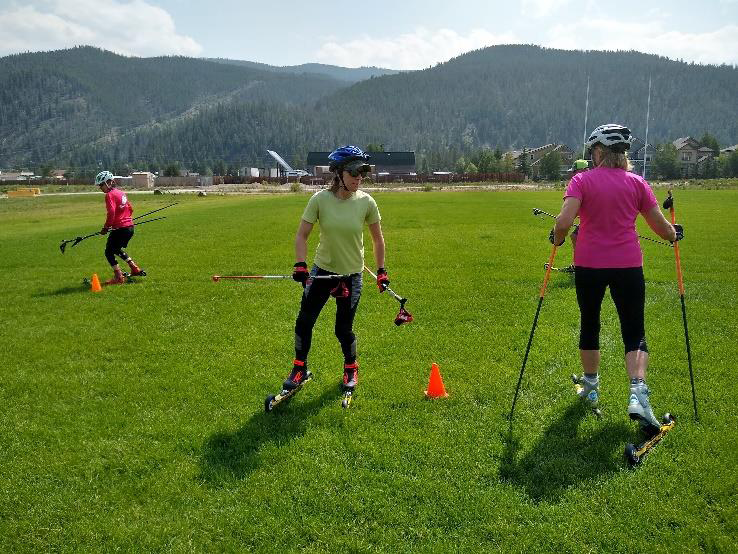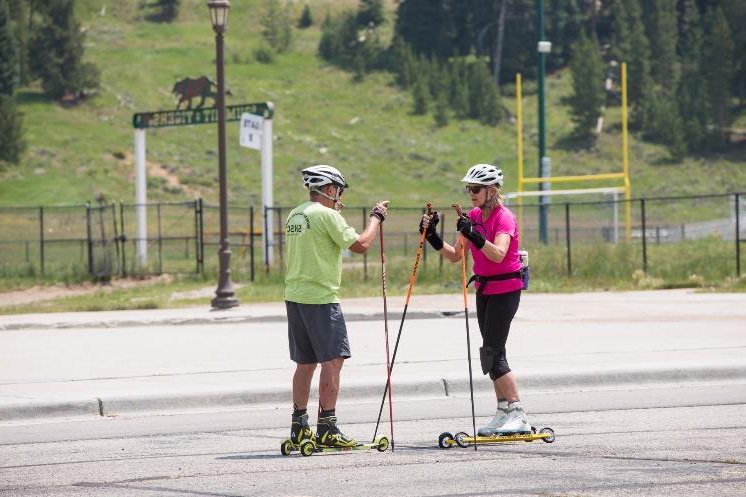 We were ready to venture on to pavement! As we know for snow skiing, there are a lot of different ways to introduce XC skiing to people. We chose to start with double pole. Working on developing good body position while on two skis and creating propulsion with the upper body.
Double polling led us up a gradual hill where we could turn around and learn about various ways to slow down on rollerskis. It was interesting because as we were practicing back and forth on this gentle grade to practice speed control skills, on the uphill athletes started shifting weight ski to ski on their own, using a v1 or v2 to climb the hill. Terrain based learning in action.
After a lunch break we had a lot of fun exploring skills through an agility course and then wrapped up the day with a fun cruise on the Summit country bike path.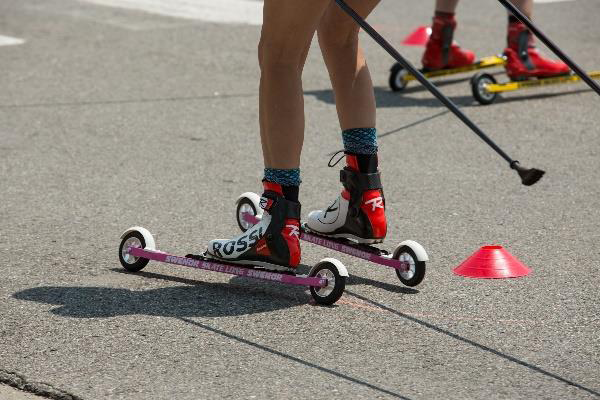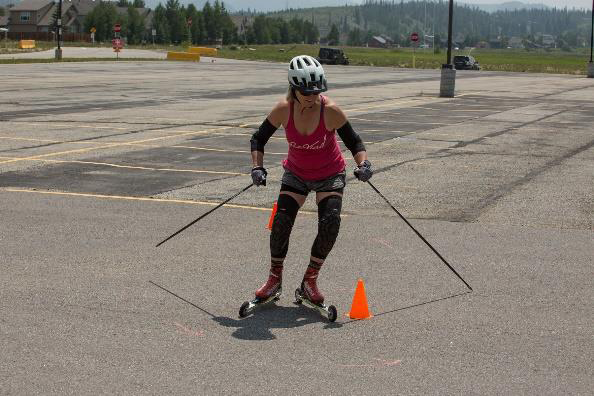 Summer and Fall aresuch a fantastic time to work on upping your cross country ski game through dryland training including rollerskiing.
Maintain and develop balance,
Increase upper body strength,
Improve coordination of movements.
Gain aerobic endurance.
Give your joints a break with a low impact activity.
Before long we'll be putting these skills to work on snow. Check out the PSIA-AASI XC Academy, coming up November 28 – 30th and the West Yellowstone Ski Festival, November 23 – 27th both in West Yellowstone Montana.